| Description | Rate |
| --- | --- |
| Zone A, B, C, G, H & U | |
| Monday - Friday | |
| 1st 3 hours or part thereof | RM 2.00 |
| 4th hour | RM 1.00 |
| Every subsequent hour or part thereof | RM 2.50 |
| Saturday, Sunday & Public Holidays | |
| 1st 3 hours or part thereof | RM 3.00 |
| Every subsequent hour or part thereof | RM 1.00 |
| Description | Rate |
| --- | --- |
| Premier Car Park | |
| Monday - Friday | |
| 1st hour or part thereof | RM 4.00 |
| Every subsequent hour or part thereof | RM 2.50 |
| Saturday, Sunday & Public Holidays | |
| 1st hour or part thereof | RM 4.00 |
| Every subsequent hour or part thereof | RM 2.50 |
| Valet Parking | |
| Monday - Thursday | |
| 1st 5 hours or part thereof | RM 30.00 |
| Every subsequent hour or part thereof | RM 2.00 |
| Friday, Saturday, Sunday & Public Holidays | |
| 1st 5 hours or part thereof | RM 35.00 |
| Every subsequent hour or part thereof | RM 2.00 |
| Lost ticket penalty - RM 50.00 | |
(last updated: 28/4/2023)
* The last increase in parking rates was in October 2022
F.A.Q.
How do I pay the parking fee at Mid Valley Megamall?
Parking fee can be paid with either Touch 'n Go card, debit card or credit card.
Can I check Mid Valley Mall's parking availability?
You can check the mall parking availability live update here.
What are Mid Valley Megamall parking operating hours?
You can refer to this picture for the opening/closing time of each entrance and exit.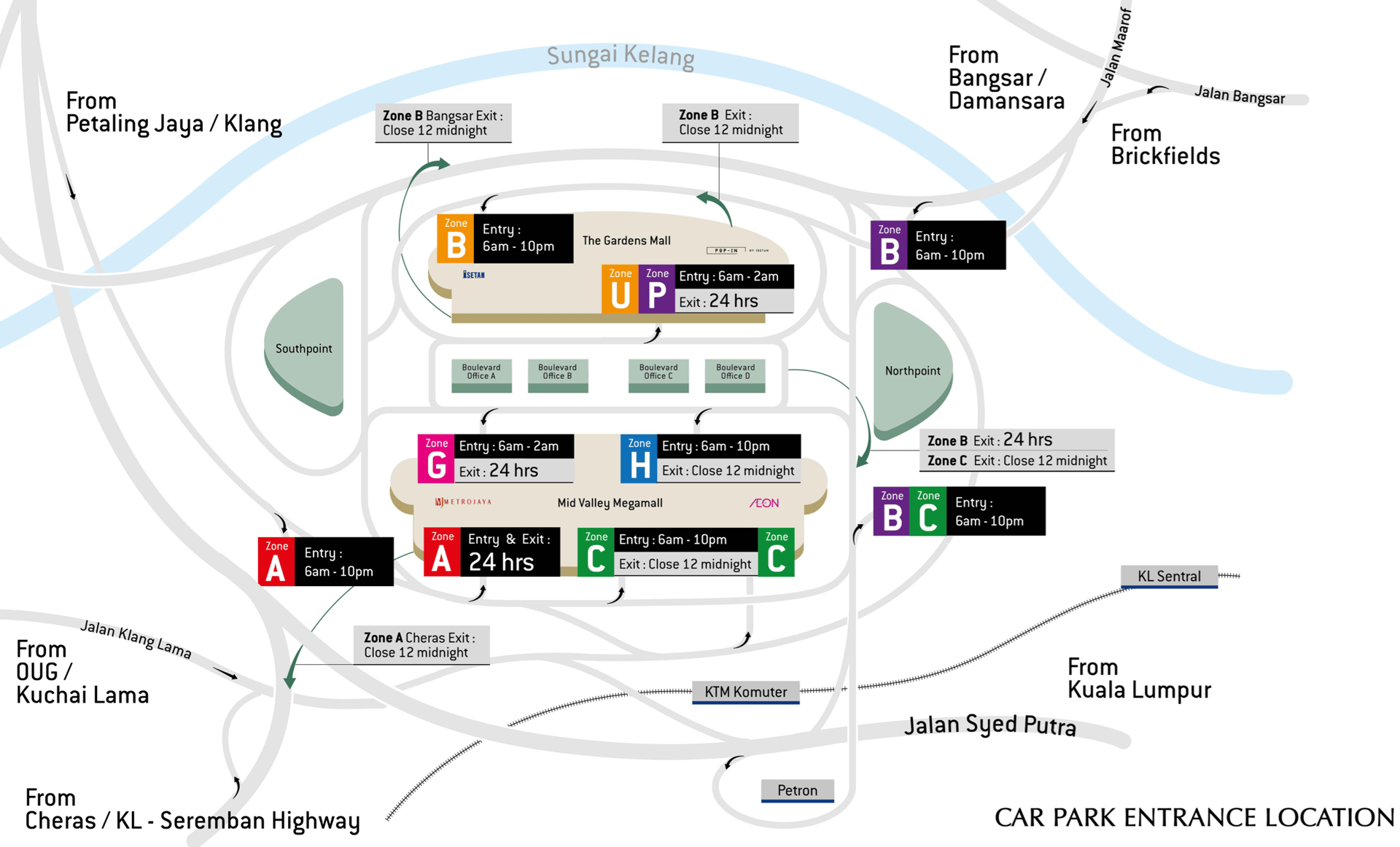 Is there valet parking at Mid Valley Megamall?
Yes there is valet parking at the mall.
How many parking bays are there in Mid Valley Megamall?
There are more than 10,000 parking spots spread across 4 levels of basement car park as well as multiple elevated levels in the mall. You can access each level via staircases or elevators.
Can I park in Mid Valley Megamall and get to Cititel Mid Valley?
Yes you can.
About Mid Valley Megamall
Mid Valley Megamall is the centerpiece of the vibrant Mid Valley City, a mixed-use development that offers a perfect blend of retail, commercial, and residential spaces in Kuala Lumpur. The mall itself boasts an impressive range of over 500 local and international retailers, making it a shopaholic's paradise.
Mid Valley Megamall is not just a shopping destination but also a culinary haven, offering a plethora of dining options to satisfy all palates. Visitors can indulge in local delicacies or sample international cuisines, all in one convenient location.
Apart from shopping and dining, Mid Valley Megamall also provides various entertainment options, including a cinema complex, an indoor theme park, a bowling alley, and an art gallery. With so many exciting activities to choose from, visitors can easily spend an entire day at the mall and still have more to explore.
Located in the heart of Mid Valley City, the mall is easily accessible by public transportation and has ample parking facilities. With its unbeatable combination of shopping, dining, and entertainment options, Mid Valley Megamall is the ultimate destination for anyone looking to enjoy a day out in Kuala Lumpur's bustling Mid Valley City.